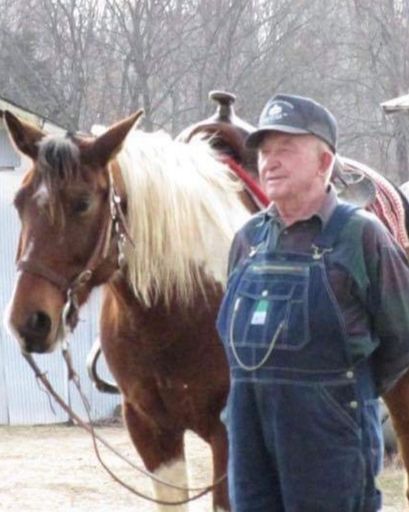 C. W. (Shorty) Hill was born on February 17, 1927, in New Albany, MS. He was the beloved son of the late Murry and Ella Rhea Hogue Hill.
At a very young age, Mr. Shorty left school to help his parents support his eight siblings, demonstrating an early understanding of hard work and dedication. These qualities remained with him throughout his life of farming and carpentry work.
On January 1, 1946, he married Edna Mae Connor, who sadly passed away on January 11, 2009 after 63 years of marriage together.
A dedicated member of West Shiloh Baptist Church, Mr. Shorty Hill held the distinction of being their oldest member while serving as a deacon for many years. Further contributing to his outstanding character was his role as the caretaker of Stantonville Cemetery since 1969—a responsibility he fulfilled with immense respect and utmost care. He was also the oldest farmer in McNairy County, TN.
In his younger years, Mr. Shorty participated in barrel racing events where he achieved numerous trophies alongside his horse, Dusty. He cherished his family, which extended to include his church family and the many friends he accumulated throughout McNairy County. His love for people was evident through his ability to strike up conversations with strangers and leave as lifelong friends.
On November 17, 2023, at the age of 96 Years and 9 Months, Mr. C.W. "Shorty" Hill peacefully passed away in Corinth, Mississippi.
Left to cherish his memory are three daughters: Eloise Hanna of Savannah, TN; Peggy Ashe and her husband Mike of Michie, TN; Gayle Parrott and her husband Phillip of Stantonville, TN; a son, Donald Hill and his wife Carolyn, of Stantonville, TN;
nine grandchildren: Angie Lambert, Bo Lambert, April Lambert, Cindy Harbin, Kevin Hill and his wife Sissy, Ginger Mattox, Wayne Ashe and his wife Wendy, Jason Harbin and his wife Tammy, and Melanie McApin and her husband Freddy; 23 great-grandchildren, 18 great-great-grandchildren, and  one great-great-great-granddaughter; and a large extended family and friends who were dear to him.
Preceding him in death are his loving wife Edna Mae Hill; son Junior Hill—who courageously gave his life while serving his country on May 13, 1969; son-in-law Carlos Lambert, two grandchildren, Amanda Parrott and Chris Harbin, two brothers K.C. Hill and Clark Hill, as well as six sisters Irene Hill, Erlene Johnson, Rozine Fraley, Willodean Webb, Ann Jean Crow, and Josephine Blair.