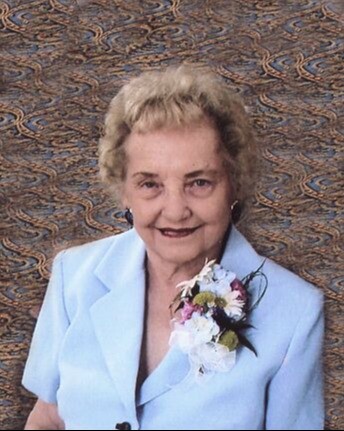 Lavelle Rogers Page, age 95 years, 6 months and 1 day, passed away on Saturday, November 18, 2023, in Jackson-Madison County General Hospital surrounded by her family.
She was born on May 17, 1928, in Henderson County to Lonnie Huborn Rogers and Eva McCarter Rogers.  She married Amos C. Page on October 18, 1946, upon his return from WWII. They enjoyed almost 72 years of marriage before his death in August 2018.
She is survived by her three children, Randall Page (Lynn) of Medina, Roger Page (Carol) of Henderson and Lisa Reyes (Nick) of Kingston Springs; three grandchildren, Allison Quinteros (Cesar), Justin Page (Hannah) and Ethan Page (Whitney); and seven great-grandchildren, Grace Quinteros, Sophia Quinteros, James Quinteros, Will Page, Sam Page, Greta Page, and Ruby Page.  She is also survived by her brother, Lloyd Rogers.  She was preceded in death by her parents, her husband, and her beloved granddaughter, Cynthia Page.  She was also preceded in death by her brothers, Otis Rogers, Gilbert Rogers and Willard Rogers, along with her sisters, Mayrene Waters, Nadine Garner, and Sue Blankenship.
Funeral services will be held on Tuesday, November 21, 2023, at 2:00 p.m. at Shackelford Funeral Home, 619 East Main Street, Henderson, Tennessee. Visitation will precede the funeral from 12:00 p.m. until the service.
Active pallbearers are Dr. Tommy Page, Ethan Page, Justin Page, Tim Young, Ricky Jones and Richard Blankenship. Honorary pallbearers are Mickey Dyer, Jerry Rogers, Pat Connor, Dwayne Williams, Charles Dyer, Eugene Dyer, Jackie Butler, Jeff Butler and David Robbins.
Please send memorials to St. Jude Hospital, 501 St. Jude Place, Memphis, Tn 38105, in honor of James Henry Trim, her great-grandnephew.
Shackelford Funeral Directors
Henderson, TN