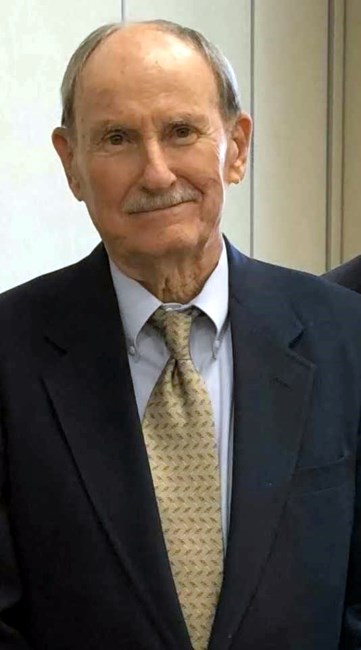 Robert M. "Bob" Gunner, age 95, passed away on September 30th, 2023.
He was born December 25, 1927, in Memphis, TN to Claudia Clements Gunner and Michael H. Gunner and grew up in Tupelo, MS. After high school graduation, he was a volunteer for Army specialized training and upon entering active duty attained the rank of 2nd Lieutenant in the Army Artillery still at the age of 18 and subsequently became a Major in the Army reserves. He was an engineering graduate from the University of Florida, and after a career in the Civil Service, retired from NASA in 1981. He was a family man first, a past volunteer of Meals on Wheels, an avid bowler and golfer, a member of Knights of Columbus, and spent many years as a volunteer at St. Ann's Catholic Church during which he modernized the bookkeeping and installed their first computerized system for finances and personnel.
He was the third of nine children. He was preceded in death by his parents and two sisters, Doris Evangelisti of Memphis TN, Joan Milam of Weston, FL and one brother Mike H. Gunner of Tupelo, MS. He is survived by his wife of 70 years, Joanne Gunner; two sons, Michael H. Gunner(Chris) of Madison, AL, and Robert S. Gunner(Stephanie) of Birmingham, AL; seven daughters, Karen Matthews(Richard) of Stanford, NC, Leigh Anne Hansen-Worrell (Brant) of McKinney, TX, Joan Rivers(Steve) of Decatur, AL, Teresa Larson of Birmingham, AL, Gloria Thomason(Barry) of Birmingham, AL, Colleen Stevens(Jack) of Roswell, GA, and Debra Moore(Jason) of Decatur, AL, five sisters Gloria Gaughf of Greenville, SC, Norma Nance of Charleston, SC, Mary Ann Snow of Atlanta, GA, Claudia York of Easley, SC and Charlotte Rutherford of Tupelo, MS.
Also survived by 25 grandchildren, 23 great grandchildren, and 3 great grandchildren on the way. Bob was a member of Annunciation of the Lord Catholic Church in Decatur, Alabama. He was a devout Catholic who instilled in his children a strong work ethic and a love for Jesus and His Church by his words and example.
Funeral services will be celebrated at a Mass at Annunciation of the Lord Catholic Church in Decatur, AL on October 4th at 1pm, with visitation one hour prior.
In lieu of flowers, donations can be made to a recognized pro-life organization, Annunciation of the Lord Catholic Church building fund, or a charity for the poor.