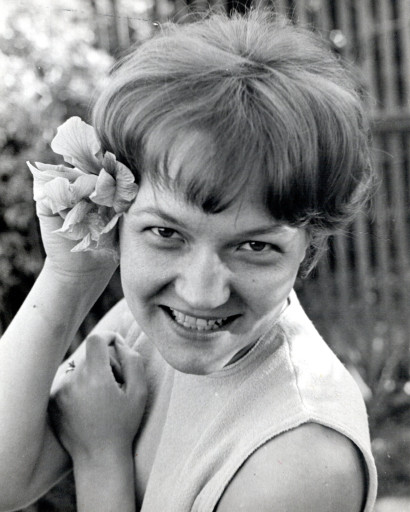 Jamie Frances Galloway Butler age 80, of Tuscaloosa, passed away on Thursday, September 14, at her home. Services for Mrs. Butler will be on Sunday, September 17, at Norwood-Wyatt Chapel at 3:00 P.M. with Visitation 30 minutes prior to service time. Bro. Tim Holder will be officiating the service.
Mrs. Butler is preceded in death by her parents; Ludy Oliver Galloway, and Roberta Mae Bates Galloway, and brothers; Jarrell Eugene Galloway(Anne), Tommy Dale Galloway(Hellen), and Joe Arthur Galloway(Wanda).
She is survived by her husband; William Hill Butler of Tuscaloosa, daughter; Susanna Frances Butler Herrmann(Robert) of Southampton, New York, son; William Stephen Butler(Sheila of Denver, Colorado, and grandchildren; Rily Eli Herrmann of Southampton, New York and Washington D.C., Emmet Michael Butler of Denver, Colorado, Keira Maxine Butler of Denver, Colorado, and Una Cecilia Butler of Denver Colorado.
Jamie Frances Galloway was born in a mining camp in Giles, Alabama on February 12, 1943. Giles no longer exists, but the location is now part of the town of Woodstock. Jamie was the fourth child and only daughter of Ludy Oliver Galloway and Roberta Mae (Bates) Galloway. She was named for her maternal uncle, James Paul Bates who was piloting a B25 bomber when it was shot down over Germany during World War II. He was missing in action and presumed dead when she was born. Her uncle managed to escape the plane, was captured and survived POW incarceration and the war.
Many of the iron ore mines were closed at the end of the war and Jamie and her family moved to the Rehobeth/Lawrence Mill Community north of Fayette to be near their Galloway relatives. Jamie enjoyed the tight-knit rural community and Rehobeth Baptist church where she would sometimes play piano for services, but after her Dad took a job with the Fayette water board and her brothers left the farm for other opportunities, Jamie's family moved to town and she became a city girl at age 12. Her activities were centered around school and the Fayette First Baptist Church.
Jamie was a good student, graduating as Valedictorian of the Fayette County High School class of 1961. With the encouragement of several of her teachers she became the first of her family to enroll in college. She started at Mississippi College for Women then transferred to Howard College (now Samford) and then to Mississippi college in Clinton Mississippi from which she graduated in 1965. She was recruited to teach in the public schools of Smyrna, Georgia near Atlanta which was growing rapidly.
She taught at the middle school level in Georgia for a year before returning to take a position at a similar level at a school in Ensley (western part of Birmingham). It was there that her future husband found her. She later explained that a few years in San Diego made him a bit more interesting that the chubby, socially awkward, nerdy kid she grew up with. She had always found her calendar full when he called asking for a date in earlier years. After a whirlwind courtship and marriage on March 12, 1967, Jamie and Bill left for the land of hippies and iniquities for Bill to finish his graduate studies in San Diego. Jamie helped financially by working at a preschool for underprivileged children in Escondido, California.
Jamie's career in education was cut short by the arrival of her son, Steve on October 7, 1968 and her daughter Susanna on December 15, 1969. By the time Susanna arrived the young family had moved to Auburn where Bill worked as an Assistant Professor in the physics department. In 1972 they moved to Oak Ridge, Tennessee where Bill worked for nearly 30 years with interludes in Stony Brook, New York, Karlsruhe, Germany and Livermore, California. In addition to caring for Steve and Susanna, Jamie worked as a nursery school teacher and a teacher's aide and also obtained a Master's degree in Library Science at the University of Tennessee.
In 2001, Jamie and Bill had an opportunity to move closer to family by joining the University of Alabama. Unfortunately, Bill's dad died in July 2001 and Jamie's mom died on September 12. On the brighter side, Susanna married Robert Herrmann in 2001 and provided her a grandson, Riley in 2005. Steve married Sheila Lynch in 2007 and provided a grandson and a granddaughter (Emmet and Keira) in 2010 and a second granddaughter (Úna) in 2012.
After Bill retired from UA in 2015, they lived in Denver near Steve, Shelia, and their grandchildren. They also spent a month in France in 2012 and a few weeks touring Ireland to celebrate their 50th anniversary. In 2018 Jamie indulged Bill's desire to return to teaching and they split time between Tuscaloosa and Denver until 2022 when Jamie was diagnosed with an aggressive cancer. She fought the disease for over a year until she finally succumbed on September 14, 2023. During all of this time including various forms of debilitating chemotherapy, Jamie never complained and never became cynical, depressed or despondent. She was a woman of immense courage and encompassing love. She will be fondly remembered and sorely missed by all who knew her. She loved her family above all else and she loved spending time with her kids, and grandkids and all of her extended family and friends.
Pallbearers will be Riley He3rrmann, Bart McConnell, Logan Wright, Sam Wright, Corey Baker, and Austin Galloway.
In Lieu of Flowers please give to Hospice of West Alabama: www.hospiceofwestal.com