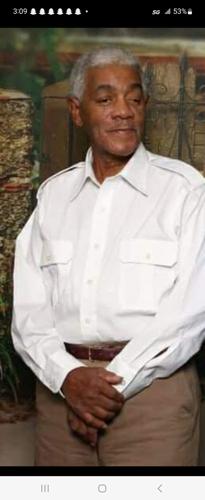 Mr. Willie Curtis Woods, 81, better known as "Doc" and "Bunny" was born May 8, 1942, in Leighton, Alabama to Fannie L Sledge and Roosevelt Woods. He was a graduate of Leighton Training School, class of 1960. He was a lifelong resident of Waukegan, Illinois.
Bunny confessed his faith in Christ at an early age and joined Galilee Missionary Baptist Church in Leighton, Alabama. He rededicated his life and was baptized on October 19, 2023, in the hospital. He passed away in Jackson, Tennessee, November 1, 2023, with devoted daughter-caregiver Bonnie Michelle at his bedside.
Bunny was preceded in death by his parents, grandson; Tyler Matthew Curtis Hill, son in law; Darnell Watts. Siblings; Jearlene Sledge Toney, Percy T Sledge Sr, Ricky Recardo Woods. Sister-in-law; Carrie Toney Sledge, Brother-in-law; Ernest Toney, mother-in-law; Ruby Reeder, sidekick cousin; Clinton Howard Bailey, Uncles: Richard and Curtis Sledge, Aunts; Annie Allen, Clara Mullins.
Employment: CNA-Orderly at the former Colbert County Hospital, first road manager to brother Percy T Sledge, traveled worldwide alongside him. Goodwill Industries, OMC Johnson Motors, Downey Veteran Hospital, Deerfield Public Library, Saint Cyril Methodius Parish and retired as head chef at Great Lakes Naval Base, Illinois.
Remembering and cherishing his memories are four loving daughters Lenora Woods, Kimberly Woods; their mother Iona Mae Reeder Woods, wife of 61years; Bonnie Greenlee Watts, Latrice Greenlee Lewis, their mother Clara Mae Greenlee; grandson; Willie Dupree Phillips, great granddaughter; Ka'Niya Nevaeh Phillips, son in law; Willie Lewis. Sister Donna Sledge Cohen (Clarence), Sisters in Law; Rose Singleton Sledge, Sherry Reeder Vaughn, and Lavanda Woods; best friend; Lewis Clayborne of North Chicago, Sister by Love; Harriet Church; a host of cousins, nephews, nieces, and other family members and friends with Special Family Members: Crystal Bond and David Greenlee.
A Memorial Service will be held May 2024 in his hometown, Leighton, Alabama, His ashes will be buried alongside his mother in Galilee Cemetery, the garden of his ancestors Frank Otis Sledge and Hester Lee Pruitt Sledge. Frank Pruitt and Sabra Vinson. Robert A Sledge and Lethean Ricks. Alex Vinson and Adeline Vinson. Frank Ricks and Parthena Ricks.
Acknowledgement: The family of Willie Curtis Woods would like to thank each of you for your outpouring of love and support during our difficult time. Your prayers, cards, texts, telephone calls and condolences have been an encouragement.
Final Arrangements entrusted to:
Mercer Brothers Funeral Home 501 Dr. Martin Luther King Jr. Drive Jackson, Tennessee 38301 731-423-4922
P O Box 10276 Jackson, TN 38308 614-270-2520