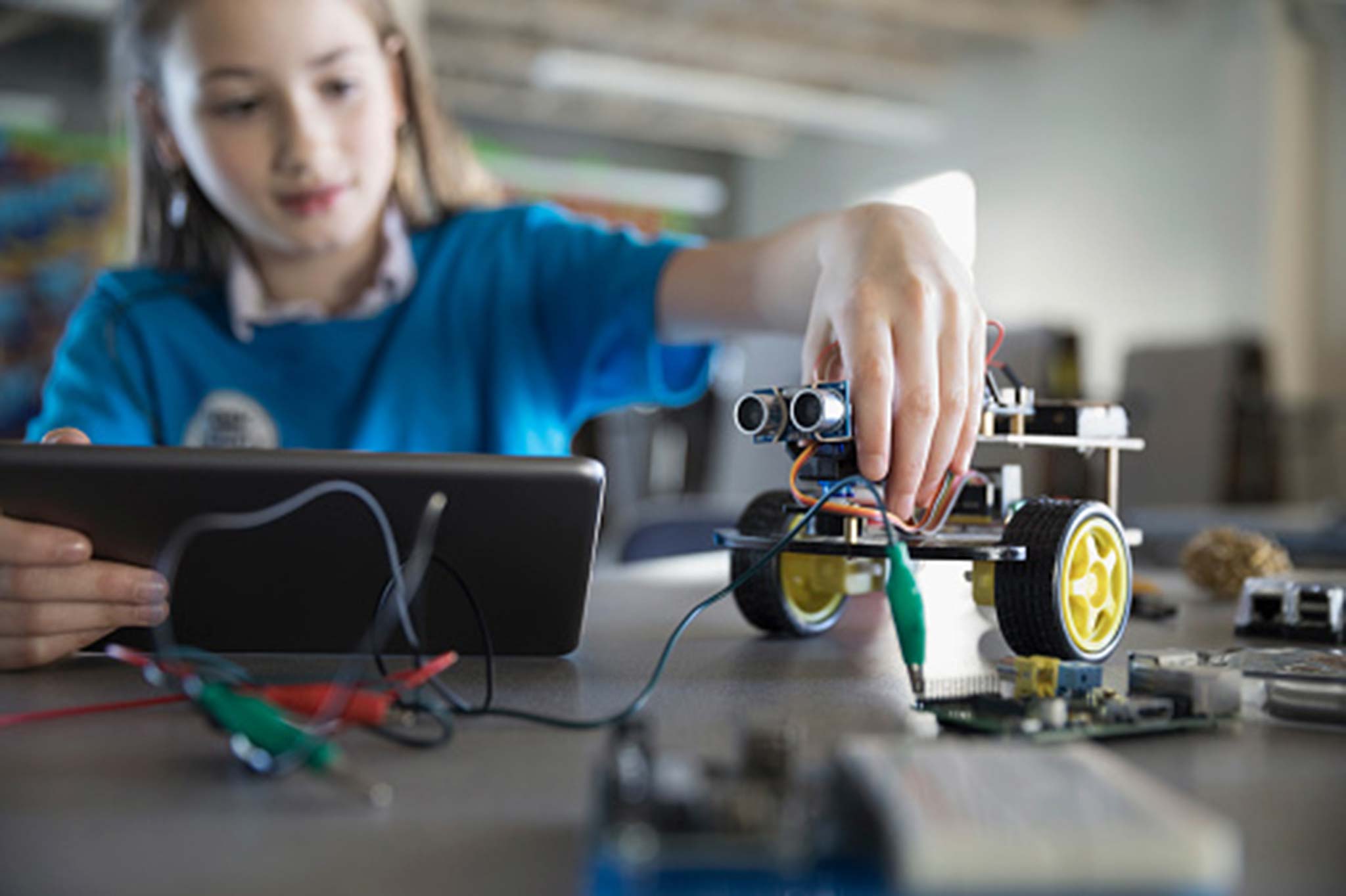 KNOXVILLE, TN – Schools across the Southeast region will have more money back into their budgets and cleaner air within their facilities thanks to $2.6 million in grants from the Tennessee Valley Authority. These grants are awarded as part of TVA's School Uplift program, which is expected to save 64 schools across six states an average of 10% on their energy bills this year.
Monday's live announcement was attended by hundreds of students and administrators who were eager to learn their school's grant amount. The grants ranged from $10,000 to $410,000 and the amount was dependent on the score each school achieved by cutting their energy waste. The grant scoring also incorporates a needs-based assessment of each school's facilities to determine which buildings could achieve the greatest energy savings.
"For nearly 90 years, TVA and our 153 local power company partners have worked to make a positive impact on the communities we serve, and our children are our most important asset," said Monika Beckner, vice president, TVA Energy Services & Programs. "Making classrooms healthier and more comfortable for both students and teachers helps give every child the opportunity to succeed. We're inspired by the winners of this year's School Uplift grants and proud of their dedication to reducing energy waste and building a sustainable future for us all."
In 2021, TVA launched the School Uplift program to invest in students' futures by offering energy efficiency training and grants that not only reduce energy costs but improve the quality of the learning environment. To date, TVA has invested $7.28 million and has helped  118 schools save on their energy bills. The estimated energy savings resulting from School Uplift upgrades and behavior change is equal to the carbon dioxide equivalent of 26,300 metric tonnes, or more than 29.5 million pounds of coal.
The 2023-2024 School Uplift program will kick off this summer with 125 new schools already enrolled and on their way to saving energy and helping students across the Valley thrive.
School Uplift is one of many TVA programs focused on improving outcomes for students in the region. This
year, TVA awarded $1 million in STEM Grants, helping more than 136,000 students develop STEM skills and promoted financial skills by managing one of the largest student investment programs in the nation.
Learn more about TVA's School Uplift program at https://energyright.com/businessindustry/school–uplift/.
Editors Note:
State of Tennessee's Energy Efficient Schools Initiative partnered with TVA and has invested $1.86 million in School Uplift to support Tennessee schools. Below is the list of winning schools and grant amounts. Contact your school's principal for a quote and more information about the program.
| | | | | |
| --- | --- | --- | --- | --- |
| School | Amount | City | State | Local Power Company |
| ARAB ELEMENTARY SCHOOL | $10,000 | Arab | AL | Arab Electric Cooperative |
| ARAB HIGH SCHOOL | $10,000 | Arab | AL | Arab Electric Cooperative |
| ARAB JUNIOR HIGH SCHOOL | $10,000 | Arab | AL | Arab Electric Cooperative |
| ARAB PRIMARY SCHOOL | $10,000 | Arab | AL | Arab Electric Cooperative |
| CHEROKEE HIGH SCHOOL | $10,000 | Cherokee | AL | Sheffield Utilities |
| COLBERT COUNTY HIGH SCHOOL | $10,000 | Leighton | AL | Sheffield Utilities |
| COLBERT HEIGHTS HIGH SCHOOL | $25,000 | Tuscumbia | AL | Sheffield Utilities |
| NAOMI ELEMENTARY SCHOOL | $210,000 | La Fayette | GA | North Georgia EMC |
| RED BUD ELEMENTARY SCHOOL | $10,000 | Calhoun | GA | North Georgia EMC |
| CARR ELEMENTARY SCHOOL | $25,000 | Fulton | KY | Fulton Electric System |
| EDMONSON COUNTY HIGH SCHOOL | $10,000 | Brownsville | KY | Warren Rural Electric Cooperative Corporation |
| FULTON COUNTY HIGH SCHOOL | $210,000 | Hickman | KY | Hickman Electric System |
| KYROCK ELEMENTARY SCHOOL | $10,000 | Sweeden | KY | Warren Rural Electric Cooperative Corporation |
| MURRAY HIGH SCHOOL | $10,000 | Murray | KY | Murray Electric System |
| MURRAY MIDDLE SCHOOL | $10,000 | Murray | KY | Murray Electric System |
| CTE VO TECH | $10,000 | Okolona | MS | Okolona Electric Department |
| EAST SIDE ELEMENTARY SCHOOL | $10,000 | West Point | MS | West Point Electric System |
| EAST WEBSTER ELEMENTARY SCHOOL | $10,000 | Mathiston | MS | 4-County Electric Power Association |
| EAST WEBSTER HIGH SCHOOL | $10,000 | Maben | MS | 4-County Electric Power Association |
| FIFTH STREET JUNIOR HIGH SCHOOL | $10,000 | West Point | MS | West Point Electric System |
| FRANKLIN ACADEMY | $210,000 | Columbus | MS | Columbus Light and Water Department |
| PONTOTOC JUNIOR HIGH SCHOOL | $10,000 | Pontotoc | MS | Pontotoc Electric Power Association |
| PONTOTOC MIDDLE SCHOOL | $10,000 | Pontotoc | MS | Pontotoc Electric Power Association |
| HAYESVILLE ELEMENTARY SCHOOL | $10,000 | Hayesville | NC | Blue Ridge Mountain EMC |
| HAYESVILLE HIGH SCHOOL | $10,000 | Hayesville | NC | Blue Ridge Mountain EMC |
| | | | | |
| --- | --- | --- | --- | --- |
| HAYESVILLE MIDDLE SCHOOL | $10,000 | Hayesville | NC | Blue Ridge Mountain EMC |
| HAYESVILLE PRIMARY SCHOOL | $10,000 | Hayesville | NC | Blue Ridge Mountain EMC |
| ASHLAND CITY ELEMENTARY SCHOOL | $10,000 | Ashland City | TN | Cumberland EMC |
| ATHENS CITY MIDDLE SCHOOL | $10,000 | Athens | TN | Athens Utilities Board |
| BARRETS CHAPEL SCHOOL | $10,000 | Arlington | TN | Memphis Light, Gas and Water Division |
| BOONES CREEK ELEMENTARY SCHOOL | $10,000 | Johnson City | TN | BrightRidge |
| BRADLEY CENTRAL HIGH SCHOOL | $10,000 | Cleveland | TN | Cleveland Utilities |
| COLEMAN SCHOOL | $410,000 | Memphis | TN | Memphis Light, Gas and Water Division |
| CUMMINGS K8 OPTIONAL SCHOOL | $10,000 | Memphis | TN | Memphis Light, Gas and Water Division |
| DANIEL BOONE HIGH SCHOOL | $10,000 | Gray | TN | BrightRidge |
| DAVID CROCKETT ELEMENTARY SCHOOL | $25,000 | Lawrenceburg | TN | Lawrenceburg Utility Systems |
| DAVID CROCKETT HIGH SCHOOL | $10,000 | Jonesborough | TN | BrightRidge |
| DEKALB COUNTY HIGH SCHOOL | $10,000 | Smithville | TN | Smithville Electric System |
| DEKALB COUNTY MIDDLE SCHOOL | $10,000 | Smithville | TN | Smithville Electric System |
| EASTSIDE ELEMENTARY SCHOOL | $10,000 | Rock Island | TN | Caney Fork Electric Cooperative |
| FALL BRANCH ELEMENTARY SCHOOL | $10,000 | Fall Branch | TN | BrightRidge |
| GRANDVIEW ELEMENTARY SCHOOL | $10,000 | Telford | TN | BrightRidge |
| GRAY ELEMENTARY SCHOOL | $25,000 | Gray | TN | BrightRidge |
| HANCOCK ELEMENTARY SCHOOL | $25,000 | Sneedville | TN | Powell Valley Electric Cooperative |
| HANCOCK MIDDLE HIGH SCHOOL | $25,000 | Sneedville | TN | Powell Valley Electric Cooperative |
| HANLEY SCHOOL | $10,000 | Memphis | TN | Memphis Light, Gas and Water Division |
| HARDIN VALLEY ELEMENTARY | $25,000 | Knoxville | TN | Lenoir City Utility Board (LCUB) |
| HICKORY CREEK ELEMENTARY SCHOOL | $25,000 | McMinnville | TN | McMinnville Electric System |
| HIGHLAND ELEMENTARY SCHOOL | $410,000 | Greeneville | TN | Greeneville Energy Board |
| INGLEWOOD ELEMENTARY SCHOOL | $25,000 | Nashville | TN | Nashville Electric Service (NES) |
| INGRAM SOWELL ELEMENTARY SCHOOL | $25,000 | Lawrenceburg | TN | Lawrenceburg Utility Systems |
| LAKE COUNTY HIGH SCHOOL | $10,000 | Tiptonville | TN | Gibson Electric Membership Corporation |
| LAMAR ELEMENTARY SCHOOL | $10,000 | Jonesborough | TN | BrightRidge |
| LARA KENDALL SCHOOL | $10,000 | Ridgely | TN | Gibson Electric Membership Corporation |
| MADISONVILLE INTERMEDIATE SCHOOL | $410,000 | Madisonville | TN | Fort Loudoun Electric Cooperative |
| NEELYS BEND ELEMENTARY SCHOOL | $25,000 | Madison | TN | Nashville Electric Service (NES) |
| RED BANK HIGH SCHOOL | $10,000 | Chattanooga | TN | EPB |
| RIDGEVIEW ELEMENTARY SCHOOL | $10,000 | Gray | TN | BrightRidge |
| SEWANEE ELEMENTARY SCHOOL | $10,000 | Sewanee | TN | Duck River EMC |
| SMYRNA ELEMENTARY SCHOOL | $10,000 | Smyrna | TN | Middle Tennessee Electric |
| SOUTH CENTRAL ELEMENTARY SCHOOL | $10,000 | Chuckey | TN | BrightRidge |
| SULPHUR SPRINGS ELEMENTARY SCHOOL | $10,000 | Jonesborough | TN | BrightRidge |
| VENA STUART ELEMENTARY SCHOOL | $10,000 | Gallatin | TN | Gallatin Department of Electricity |
| WEST VIEW ELEMENTARY SCHOOL | $10,000 | Limestone | TN | BrightRidge |
Media Release/Geraldine Gallman/TVA