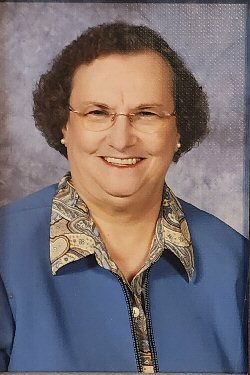 Nancy Carol Hopkins Rushing, 84, died on 31 August 2023
in the Huntsville Hospital Hospice Family Care Center in Huntsville, Alabama.
Nancy was born in Shady Grove, Kentucky, graduated from Crittenden County High School as valedictorian at the age of 16, and entered the work force as a clerk in the local Federal Agriculture, Stabilization and Conservation Office.
She married Johnny Rushing in 1959 and moved with him to Huntsville, Alabama in 1965.
After raising her two children to college age, she reentered the work force as an administrative assistant in the Army Missile School on Redstone Arsenal and retired in 2021 after being the head administrative assistant of the Corporate Information Center.
Nancy made her profession of faith as a young girl in the Blackburn Baptist Church, the church she grew up in, and where she served as pianist.
Whether milking cows, playing the piano, performing her administrative assistant duties or crocheting hats for premature babies, Nancy always gave her best and her best was very, very good.
She is survived by her husband of 63 years, Johnny Rushing, Son, Timothy Rushing, Daughter, Melinda Arrington (Addam), Grandsons, Carter and Ames Arrington, and Granddaughter, Faith Bonee.
She is preceded in death by her parents, Walter and Mable Hopkins, Brothers, Ray, Elmus, Roy and Bobby Hopkins, and Sisters Velda Hodges, Lula Gostley, and Dora Stevens.
Visitation will be at Emmanuel Baptist Church, 1917 Highway 72 West, Athens, Alabama, On 7 September from
10:00 AM
to
12:00 PM with funeral to follow.
There will be a visitation at Gilbert Funeral Home, 117 West Bellview St. , Marion, Kentucky on
9 September
from
1:00 PM
to
2:30 PM
followed by a graveside service in the Mexico Baptist Church cemetery, Mexico, Kentucky.
In lieu of flowers, please make a donation to: Huntsville Hospital Hospice Family Life, 10000 Serenity Ln, SE, Huntsville, Alabama, 35803. 
https://hhcaringforlife.org