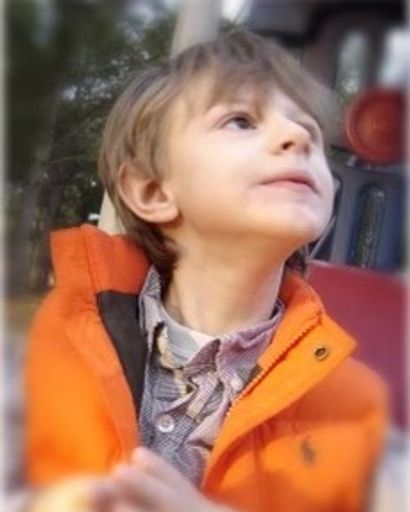 Kooper James Inman, 21, strolled onto the streets of Heaven on Friday Evening, November 17, 2023.  He was born on February 19, 2002 in Columbus, MS to Nichole Guthery Inman and Jason Inman.  When you think of Kooper and think of his life, you begin to realize that what some people may call difficulty, sickness or affliction, God calls it a gift, beauty and a living testimony of what truly matters in life.  Kooper always lit up any room that he was in, lifted the spirits of everyone that he encountered and encouraged even the weakest with his sweet spirit and smile.  He adored his family and loved being with them, especially anytime they could go outside, swimming or for a golf cart ride.  He shared a close connection with his brother, Jackson and loved to hear him play the guitar.  When Jackson couldn't play for him, Kooper enjoyed listening to music and could often be heard humming along.  His two most favorite times of day were bath time and when it was time to eat.  He loved attending First Assembly of God in Amory with his grandmother, Elizabeth.  Although he spoke few words in life, it is a certainty that the life of Kooper Inman will continue to speak of love, charity and hope in the many years to come.
Kooper is survived by his parents, Nichole Guthery Inman of Amory and Jason Inman of Cullman, AL; brother, Jackson Inman of Amory; grandparents, Timothy Guthery (Phyllis) of Hamilton, Elizabeth Taylor of Amory; Eddie and Susan Inman of Prattville, AL; aunts, Brooke Tubb (Curt), Amory, Danyale Godwin, Amory and Michelle Inman, Prattville; cousins, Cameron, Max and Charlie Tubb, Isabella, Annabella and Lois Godwin, and Griffin Inman; a host of great aunts and uncles.
Kooper is preceded in death by his great grandparents, Johnny and Flonoy Guthery, Pearce and Jewel Taylor, Berta and Shelby Griffin; uncle, Wade Taylor; cousins, Madison Arnold and Dana Guthery.
Funeral Services for Kooper will be held at 1 PM on Tuesday, November 21, 2023 at Cleveland Moffett Funeral Home in Amory with Bro. Justin Myers officiating.  Burial will follow in Lann Cemetery.  Pallbearers will be Jackson Inman, Cade Downey, Johnny Dale Guthery, Curt Tubb, Dwight Taylor and Bill Esco.  Honorary pallbearers will be Charlie Tubb, Max Tubb and Jason Harris.
Visitation will be prior to the service on Tuesday from 11 AM until 1 PM.