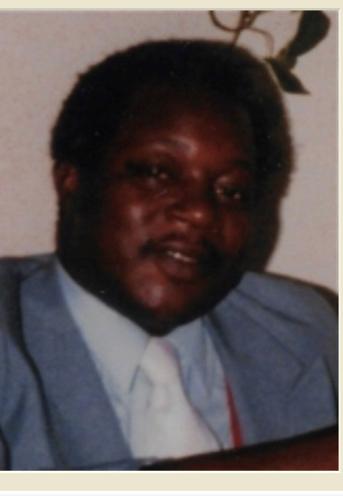 Our beloved father James Smith, Jr. passed away peacefully in Atlanta, GA on April 27, 2023, at the age of 80.
He was a graduate of Leighton Training School. Upon graduation he enlisted in the U.S. Navy. After proudly serving in the U.S. Navy he chose to make his home in Detroit, MI. He was employed with General Motors. After establishing work he married Susie Page Smith. Together he and Suzie created a home for their three children that were destined to come to this union.
He was preceded in death by his daughter, Lejama Hubbard; his parents, James and Minnie Bell Smith; brothers, Willie James Smith, Nathaniel Smith, William Smith, Joseph Smith and Willie B Smith; sisters, Minnie Mae Smith and Mattie Underwood.
He is survived by two sons, Carlos Smith and Kimathi Smith, both of Atlanta, GA; one granddaughter, Jasmine Hubbard of Detroit, MI; the mother of his children, Susie Page; three sisters, Elsie Haley of Florence, AL, Elizabeth Smith of Muscle Shoals, AL and Donnie Thompson of Meridianville, AL and a host of other relatives and friends.
Visitation with the family will be held today, 5-6:00 p.m. at Thompson and Son Funeral Home, Tuscumbia, AL. Funeral service will be 12:00 p.m. Saturday, May 6, 2023 at Mt. Olive Missionary Baptist Church, Muscle Shoals, AL. Rev. Roger Pride, Pastor Rev. Leon Simmons, Eulogist. Burial in Pearsall Cemetery, Muscle Shoals. The public viewing will be today, 10:00 a.m. – 8:00 p.m. The body will be placed in the church at 11:00 a.m. Thompson and Son Funeral Home, Tuscumbia, directing.