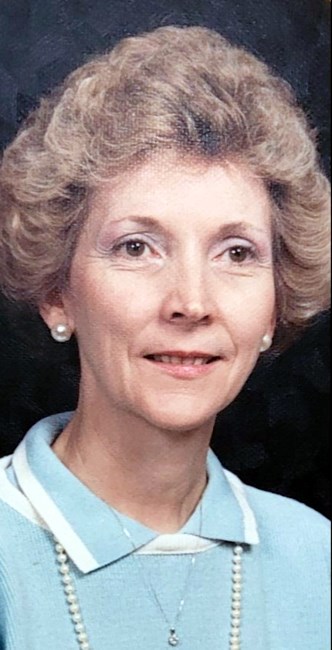 A service to celebrate the life of Elizabeth Sanders, 82, will be held Thursday at 2:00 pm at First Baptist Church. Visitation will begin at 1:00 pm until service time. Bro. Dennis Smith and Bro. Nathan VanHorn will officiate the service.
Mrs. Sanders passed away on Sunday, August 13, 2023 at Mississippi Care Center. She was born in Cape Girardeau, MO on January 9, 1941 to the late William Prentiss and Lottie May Nabors Smith. She was a homemaker, former business owner and past financial secretary for First Baptist Church in Corinth. She had a servant's heart and always had a smile that reached from one side of her face to the other. She loved music, bowling and sending cards on special occasions. She hardly ever forgot a name or a face. In the past, she was a Girl Scout leader and was active in the youth trips for First Baptist. She loved to cook and was always trying new recipes.
She is survived by her husband, William Merrill Sanders, Jr.; daughters, Stephanie Clausel (Bryan), Tracey Rogers and Dawn Wilbourne; grandchildren, Ashley Clausel, Alan Clausel (Ally), Andy Clausel, Christopher Shipman, Rebecca Rogers, Wiley Lantz (Linda) and Gentry Stafford (Gabe); great-grandchildren, Cayleigh Shipman, Zander Lantz, Hadley and Riley Stafford and Lennox Clausel; and a host of other family and friends.
In addition to her parents, she was preceded in death by her brothers, William Thomas Smith and Glenn Edward Smith.
Honorary pallbearers will be the Ambassadors Sunday School Class.
The family would like to send a special thank you to the staff of Mississippi Care Center and Vital Caring Staff. In lieu of flowers, donations can be made in honor of Liz Sanders to the First Baptist Church of Corinth or the Transformation Ranch, Home or Gardens at TransformationRanch.net.
Online condolences can be left at www.MemorialCorinth.com for the Sanders family.
Arrangements are under the care of Memorial Funeral Home.