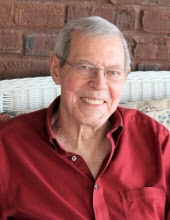 Edgar Ray Miller, 89 years old, passed away peacefully surrounded by his family on February 4, 2023.
He was born October 31, 1933, in Cleburne, Texas, the eldest child of Jackson "Jack" and Mary Jo "Jodie" Hampton Miller. He attended Cleburne High School. He served as an aviation mechanic in the US Navy from 1951 to 1954, primarily at Whiting Field near Milton, Florida. He attended North Texas State College, then the University of Texas where he graduated in 1959 with a B.A. in Physics, and a second major in Mathematics. He took post-graduate classes at UCLA and MIT.
From 1959 to 1962 he worked as a Research Engineer for North American Aviation in Los Angeles, California. He moved his family to Huntsville, Alabama in November 1962 when he began work for NASA at the Space Sciences Laboratory at Marshall Space Flight Center. At NASA he helped develop methods for controlling the temperature of satellites. Some of these methods are still in use today. He developed optical instruments that flew on satellites and on the Space Shuttle. After retiring from NASA in 1989, he worked with AZ Technology as a Co-Investigator on the Optical Properties Monitor which has flown on the Space Shuttle and MIR. He was awarded a patent for this work on measuring optical properties from the surface of an object. In retirement he enjoyed volunteering at Harrison Brothers Hardware and at the downtown bookstore of Friends of Huntsville-Madison County Public Library.
He met Martha Floyd in Austin, TX on a blind date. They married on June 13, 1959, and raised four children, two sons and two daughters, in Los Angeles, California and Huntsville, Alabama.
He was predeceased by his parents, his sister, JoAnne McMillon, his son, John Miller, and his daughter-in-law, Amy Tillett Miller.
He is survived by his wife, Martha; son, Ed Miller (wife, Maritza), daughter, Leslie Paschal (husband, Cliff), daughter, Suzanne Ritterhoff (husband, David); grandchildren Robert Ritterhoff (fiancée, Lauren Adams), Rachel Ritterhoff, Sam Miller, Carmen Segura (husband, Juan), Jorge Galvez (wife, Genny), and Daniel Galvez: great-grandchildren, Emmanuel Amaya, Andrew Galvez, Joshua Serrano; brother-in-law, Max McMillon; eight nieces; and extended family.
He was a good man. He will be missed.
A private, family service will be held at Maple Hill Cemetery. Friends are invited to an informal reception from 4 to 7 p.m. Friday, February 10, 2023, at Homewood Suites, 714 Gallatin St SW, Huntsville, AL 35801.
In lieu of flowers, donations may be made in his memory to Friends of the Huntsville-Madison County Public Library or Huntsville Hospital Hospice Family Care.