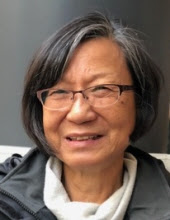 Marie Antoinette Perez, 80, passed away peacefully on January 17, 2023, while in the loving comfort of Hospice Family Care and in the arms of family in Huntsville, AL where she called home in recent years.
Marie is survived by her sister, Carmelita Budge and brother by marriage, Mervin Budge; her daughters, Lisa Thornton and Crista Thornton Taylor; son-in-law, Steven Taylor; grandchildren, Brittany Harris, Allison Harris, Jordan Taylor, Nicole Bazinet and Gabriella Taylor; great-grandchild, Kyleigh Harris; cousins, Dr. Rita Zerr and Pam Nazelrod; and loving nieces and nephews. She was predeceased by her parents, Marietta Solis Perez and Miguel Porras Perez.
Marie's wandering spirit lived in Louisiana, Connecticut, Rhode Island, New Mexico, Washington State, and Alabama. She found her community in each location and carried beautiful memories within her from every stage of her life. Of special note, she leaves behind Gretchen Morse, her childhood friend who saw her through every stage to this day, Tom Lescoe her neighbor "son" turned lifetime friend, Patricia Shannon and Amy Dunion, her sisters in spirit.
Marie was born in the French Quarter of New Orleans, LA on February 7, 1942. She attended Louisiana State University, received her B.A. from Southeastern Louisiana College in 1963, her M.A. from the University of Connecticut in 1976, and was a longtime member of the Delta Kappa Gamma Society. For 35 years she taught elementary education in New Orleans, LA and Norwich, CT and after retirement continued to volunteer as a tutor to young children and ESL teacher to adults. Immediately after Hurricane Katrina, Marie joined the Red Cross volunteers to provide aid and comfort to the displaced in the city of her early life. She was a Reiki Master, Hypnotherapist and found peace through meditation. In CT and RI, Marie used her healing arts as a hospice and palliative care volunteer, sharing her knowledge as a volunteer instructor to nurses and offered courses in community colleges.
The family expresses immense gratitude for the loving care provided to us all by Huntsville Hospital Hospice Family Care and to the staff of Brookdale at Jones Farm for the kindness and care extended to Marie while residing there, also in Huntsville and through her community at the Center for Spiritual Living.
A memorial service will be held in CT during the summer months where a majority of her life was lived. A blessing will be given by the Reverend David Leonard at the Center for Spiritual Living in Huntsville, AL after the 10:30 a.m. service on Sunday, January 22, 2023.
In lieu of flowers, the family requests donations be made to Huntsville Hospital Hospice Family Care, 10000 Serenity Lane SE, Huntsville, AL 35803.