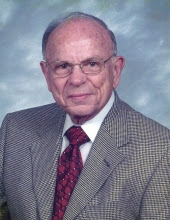 John H Kastanakis, 98, of Huntsville died Thursday, 12 January 2023 at home surrounded by family. John, the son of Harry and Annie Mazurek Kastanakis, was born in Pensacola, Florida, 4 March 1924. He graduated from Pensacola High School in 1942 and Georgia Institute of Technology with a Bachelor of Electrical Engineering in Atlanta, Georgia in 1949. John lived a long full life and will be missed by his family, as well as friends.
John was employed at Memphis Light, Gas and Water Division, Memphis, Tennessee where he met his wife, Jean; Army Ballistic Missile Agency, Redstone Arsenal, Alabama; and National Aeronautics Space Administration, Marshall Space Flight Center, Alabama. He was Chief of the Test Instrumentation Branch at Marshall Space Flight Center and worked on the Apollo, Gemini, Saturn, Skylab, Spacelab, and Space Shuttle programs. John served in the US Army with the Fighting 69th Division in the European Theatre during World War II. He was a resident of Huntsville for 72 years. John was a Registered Professional Engineer in Alabama and also a member of the National Society of Professional Engineers and Institute of Electrical and Electronics Engineers. He was a member of the First United Methodist Church for 71 years.
John was preceded in death by his parents, his loving wife, Jean Adkins Kastanakis, his sisters, Mary Kastanakis and Ellen Murtha (Vincent), and his brother, Harry Kastanakis Jr. (Nadine). He is survived by his children, John Kastanakis Jr. (Robin) and Julie Kastanakis; grandchildren, Crystal Kastanakis and John Kastanakis III; great-grandchildren, Chloe' Moore and Joslyn Fairchild; and many nieces and nephews. Special thanks to his loving and dedicated caregivers Tamla, Maria, Lavonda, and others; North Alabama Hospice personnel; and Crestwood and Huntsville Hospital personnel.
Visitation will be at 11:30 a.m., Saturday, January 21st at First United Methodist Church followed by the funeral at 12:30 p.m. Burial will follow the funeral service at Maple Hill Cemetery.
In lieu of flowers, memorials may be made to First United Methodist Church, 120 Greene St., Huntsville, AL 35801.