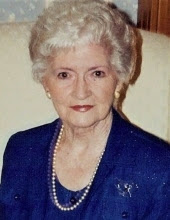 Esteene L. Cobb, age 96, passed away November 16, 2022.
Esteene was born and raised in Florida. She married Madison County, AL native, Wilburn K. Cobb on March 2, 1947, in Jacksonville, FL where they both were employed by the National Weather service. After living in Montgomery, AL, Alaska, and Atlanta, GA, they settled in Huntsville, AL in 1958.
She was a loving, caring, compassionate, and determined wife, mother, and career woman. She was employed by the Huntsville City Schools, Automatic Electric Corporation, and retired from Chrysler Corporation in Huntsville in 1987.
She enjoyed her family, her friends, her church, sewing and crocheting, her African Violets, and sitting on the back porch in the summer.
Esteene was preceded in death by her husband of 62 years, Wilburn K. Cobb, her son, Dr. Gregory W. Cobb (Jacksonville, NC), and her daughter-in-law, Linda R. Cobb (Jacksonville, NC).
She is survived by her daughter, Linda E. Cobb of Acworth, GA; grandson, Jeff Cobb (Kari) of Jacksonville, NC; granddaughters, Whitney Barone (John) of Marietta, GA, Leslie Alger (Bob) of Cary, NC, and Lori Benson (George) of York, PA. Esteene is, also, survived by 10 great-grandchildren; one great great-grandchild; and her much loved cat, Missy.
Visitation will be from 11:00 a.m. to 12:00 p.m. Tuesday, November 22 at Laughlin Service Funeral Home, with the funeral service immediately following in the chapel. Burial will be in Madison Memory Gardens.