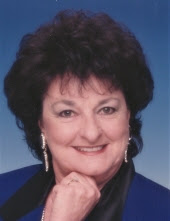 Betty Joyce Dunn, 88 of Huntsville, AL, passed away on September 22, 2022, at her home. She lived a vibrant life always lending a hand where needed and encouraging others. When her health started to fail, she still maintained her contagious smile. She loved her family, friends, and church. She was a life-long member of First Church of God, now Cornerstone Community Church, where she taught preschool.
She is survived by her daughter, Lisha Adams (Tony); son, Joey Harbaugh (Tami); daughter-in-law, Trudy Harbaugh; stepdaughters, Jenny Morgan (James) and Vanessa Nutter (Emerson); stepsons, Kendall Dunn (Christine) and Sean Dunn; 15 grandchildren; 11 great- grandchildren; nieces and nephews. She was preceded in death by her parents, her siblings, her husband, Francis Joseph Dunn, and her son Kerry Harbaugh.
Visitation with the family will be at Cornerstone Community Church, 8100 Whitesburg Dr, on Friday, September 30th from 3 to 4 p.m. with the Celebration of Life following at 4:00 p.m.
In lieu of flowers, donations can be made to one of her favorite charities: Prayer Plan Missions (800 Ten Boom Lane, Xenia, OH, 45385); Habitat for Humanity; or Food for the Poor (www.FoodForThePoor.org).