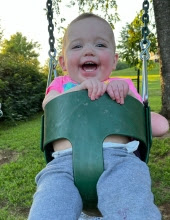 Riley Grace Savage passed away peacefully in her sleep on July 26th, 2022. Although her 15 months on this Earth were cut short, her love, smile, and memories will forever stay with her family and friends.
Welcoming Riley to Heaven are her great-grandparents, Tony Farmer, Mary Leiner, Frank Savage, and George Ingleright.
Left to cherish her memory are her parents, Mack and Elizabeth Savage; her brother, John McKinley Savage; her twin sister, Jordan Savage; her grandparents, Millie Savage, Debbie Bagby (John), Zane Savage (Tonya), and Thomas Leiner (Tina); her aunts and uncles, Daniel Leiner (Haley), John Thomas Leiner (Leigh), and Zackery Savage (Steven); her cousin, Willow Leiner; her great-grandparents, Janet Ingleright, Carol Savage, Becky Farmer, and George Leiner; and many more loving family members.
Visitation will be from 11:30 a.m. to 1:30 p.m. Monday, August 1 at Latham UMC with the funeral immediately following. The graveside service will follow at Maple Hill Cemetery.
We ask that attendees wear pink in memory of Riley.
Flowers can be sent to Latham United Methodist Church or Laughlin Service Funeral Home. Memorials may be made to Ryker's Rainbow or Wells Clayton Whitworth Memorial Foundation.