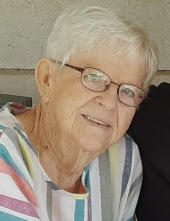 Eula Mae Vaughn Bedingfield, 84, of Rogersville, moved up to Heaven to work alongside the Creator of her flowers and everything else around us on June 8, 2022. She will be remembered by all who knew her by her love of family, dedication to her friends, and her beautiful home and flower gardens. While she will be greatly missed here, we know that she was greeted by a great number of friends and family that have gone before her and will be spending eternity with them and our Creator in a garden that she couldn't even imagine here on earth.
A graveside service will be held Friday, June 10th at 7p.m. in Civitan Cemetery. The family requests that if anyone would like to show condolences to Mr. Bedingfield, that a mask be worn.
She was preceded in death by her parents, Leroy and Inez Vaughn; brother, Johnny Vaughn; and brother-in-law, J.D. Wilbanks. She is survived by her devoted husband (and chief weed-puller) of 66 years, Larry; daughter, Donna Crosswhite (Ricky); son, Larry (Tad) Bedingfield (Tammy); three grandchildren, Wesley Bedingfield (Shonda), Justin Bedingfield (Mandy), and Heather Bedingfield; five great-grandchildren, Gracie Bedingfield, Collin Bedingfield, Jaden Williams, Josie Bedingfield, and Rece Bedingfield; sister, Erma Wilbanks; sister-in-law, Betty Vaughn; beloved nieces and nephews; extended grandchildren, Riley McConnell, Chase Perry, and Caden Perry; and many, many more friends that she considered to be family.
Isaiah 41:10. Special thanks to the doctors and nurses at North Alabama Medical Center, 4th floor nurses and care techs, the techs on Shoals Ambulance Service, Morris Lentz, Rogersville First Responders, and Amedysis Hospice Care for her care during this difficult time for her.
She would have loved the idea of donations in her honor to the Rogersville Public Library or other charity of your choice.