Those hanging up their stockings by the chimney with care in hopes that St. Nicholas soon would be there may not know the tale that inspired the cheerful Christmas stockings tradition.   We have a couple…choose the one you like best….
Saint Nicholas knew the family was very poor, so he threw three bags of gold coins down the chimney. The money landed in the sisters' stockings. Since then, children have hung up their Christmas stockings on Christmas Eve, hoping to find them filled with gifts in the morning.
Another possibility that the stocking-filling is a variation on the old tradition of putting shoes out for St. Nicholas's feast day on December 6. Children in many cultures leave their shoes out on December 5, sometimes with a bit of hay in them for St. Nick's donkey. If they're lucky, the hay will have been replaced with treats or gold coins when they wake up the morning.
But a different version of that beautiful-daughters-distraught-father legend swaps the gold coins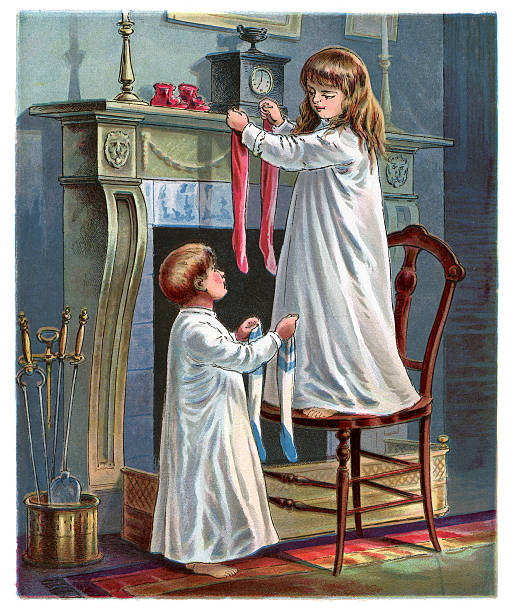 left by St. Nick with three gold balls left in each stocking. Understandably, the solid gold balls tradition isn't so easy to replicate; that's why their citrus look-alikes have found their way into stockings alongside tchotchkes and baubles, but hopefully not coal!
The tradition of Christmas stockings is said to have originated from the actions of a kind noble man named Nicholas, who was born in 280 AD, in Patara, a city of Lycia, in Asia Minor. While still young, his wealthy parents died in an epidemic. A true follower of Jesus Christ's principles, Nicholas became a Christian priest and used all his riches to help the poor, the needy, the sick, and the suffering.  A rich man, he traveled across the country helping people, giving gifts of money and other presents. However, Nicholas always gave his gifts late at night, so that his identity would remain a secret. He did not like to be seen when he gave away presents, so the children of the day were told to go to sleep quickly or he would not come! Nicholas was eventually named the patron saint of children and sailors (because of his concern for sailors and ships) and came to be known as Saint Nicholas.